Employee Spotlight: Chris Dupre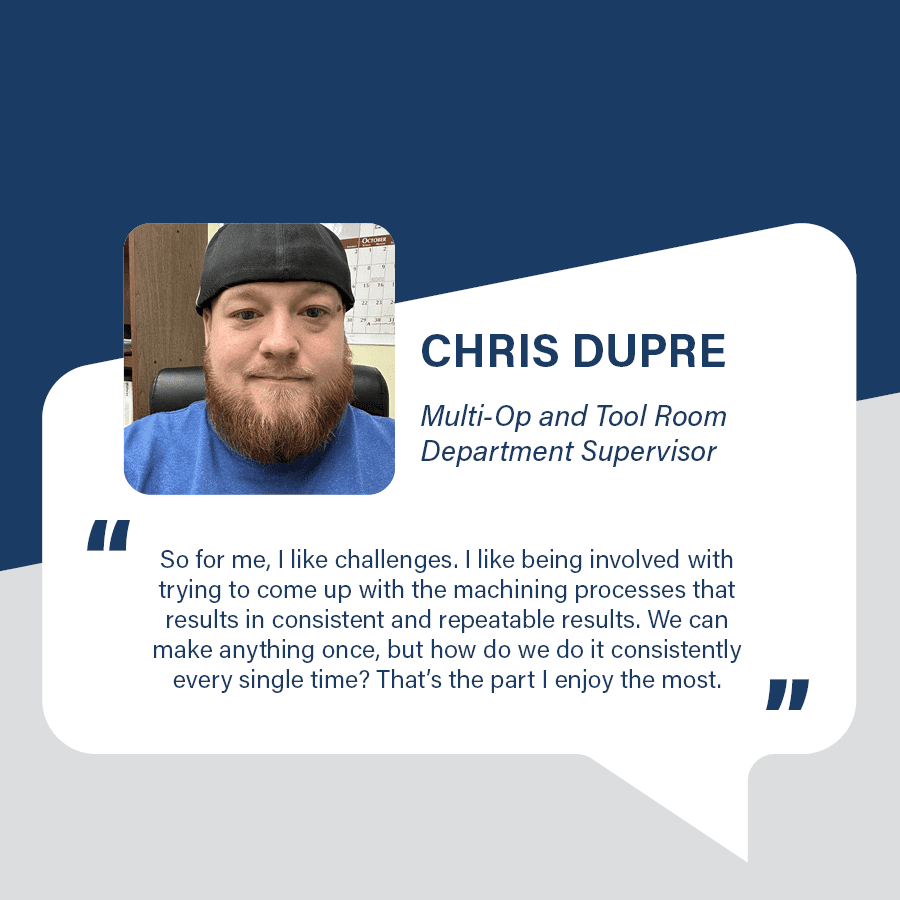 How long have you worked at Lisk and what is your current role?
I have been at Lisk for just over 12 years now. I was just promoted to Multi Op and Tool Room department supervisor this past January.
What has your experience been as a member of the Lisk team?
Overall my experience has been very good.
Who have been some of your biggest inspirations within the company?
This is a tough one… First and foremost, my father, Mike Dupre. He is the one that introduced me to machining many years ago. I remember coming in almost every year for "take your child to work day" and spending time in the CNC department with him and watching the machines make some really intricate components. I even remember pressing the "green button" to start the machining cycle. Machining was always so fascinating to me at that age, and still is to this day. Secondly, I'd like to mention Carl Sands. He has taught me so much and I wouldn't be where I am today without him. The day to day challenges were always ever changing and that allowed me to learn and grow very quickly as a machinist, and even as a person in general. He was an excellent mentor to me. Lastly, another person I'd like to include, is Dave Ford. He's one of the most intelligent people I have ever had the ability to work with. He's never one to shy away from any challenges. I feel like I can relate to that on some level.
What is your favorite memory at Lisk?
My favorite memory at Lisk to date, is achieving level 5 machinist and being promoted to Multi Op/Tool Room Department Supervisor. It feels like my hard work and dedication is starting to pay off. I can officially mark that off my list and set a new goal to pursue.
How have you grown professionally while on the Lisk team?
I was hired in Multi Ops back in 2011 as a machinist, practically right out of high school. I was a floater between all of the machines within the department. When the EDM department merged, that created an opening within that area which I was fortunate to move into. The EDM area taught me so much in regards to processing, quality, and the importance of good fixturing practices. After working in the EDM area, I was tasked with grinding the M1 pilot pins, poppets, and push rods. That area then evolved into the Grind Cell where I was able to gain full control of the machines and process's for testing. We did so many different tests and learned so much. Multi Ops is a very diverse machining department and I think having the ability to work on all kinds of different equipment really helped me succeed in my career so far.
What do you enjoy most about working at Lisk?
So for me, I like challenges. I like being involved with trying to come up with the machining processes that results in consistent and repeatable results. We can make anything once, but how do we do it consistently every single time? That's the part I enjoy the most.