Employee Spotlight: John Erway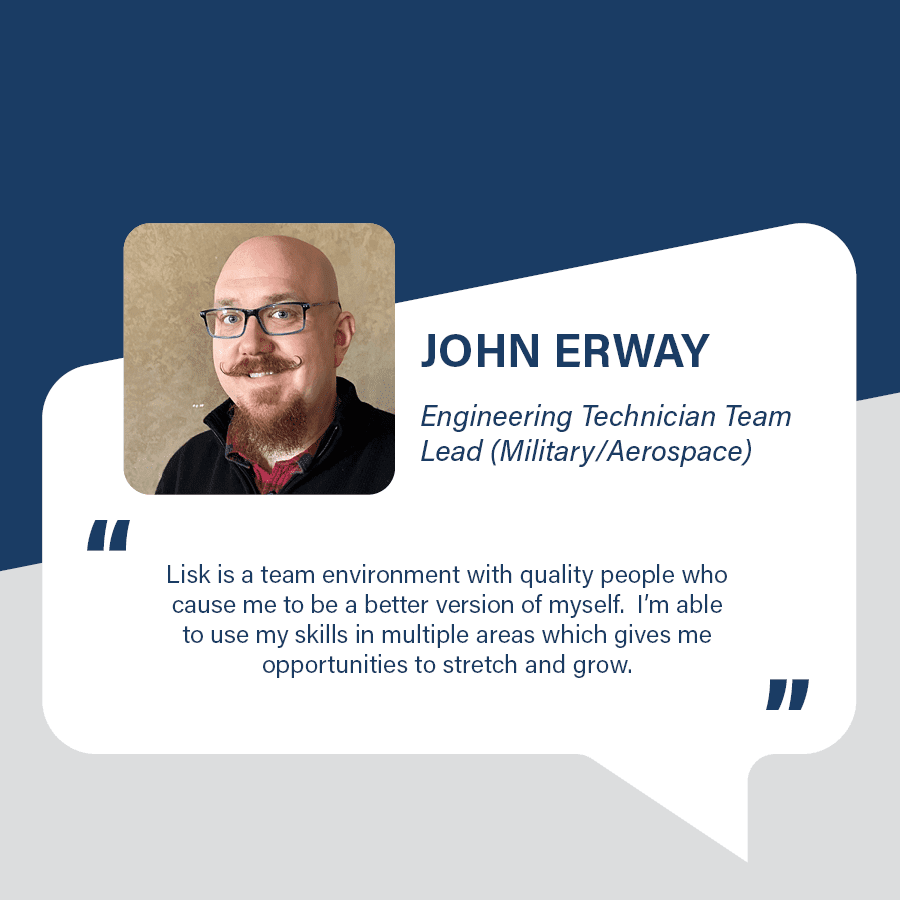 How long have you worked at Lisk and what is your current role?
I came to Lisk straight out of college in 2006 and worked with the Military/Aerospace group as a test engineer until 2011.  I loved my job, but life took me to work in West Africa for the following 8 years.  When I returned home permanently, Lisk was where I wanted to land!  So I called my previous boss and was offered my current position as the Engineering Technician Team Lead for the Military/Aerospace group.  Next year will mark 10 years total of working with Lisk.
What has your experience been as a member of the Lisk team?
My experience has been very positive. Lisk is a team environment with quality people who cause me to be a better version of myself.  I'm able to use my skills in multiple areas which gives me opportunities to stretch and grow.
Who have been some of your biggest inspirations within the company?
I've truly admired the individuals who have spent their entire career here.  Hearing their stories of starting at Lisk right out of high school or college and working their way up within the company over the course of 30 or 40+ years, is inspiring.
What is your favorite memory at Lisk?
When I started in 2006, Drew Morris, the man who built Lisk into what it is today was still actively working.  I remember several times walking into the building with him in the morning or crossing paths with him in the halls.  He was always kind and polite, and yet he commanded your respect in the best way possible.  I'm very grateful to have known him.
How have you grown professionally while on the Lisk team?
My technical writing, and test skills have both been sharpened over the years of working with customers.  Additionally I've been able to develop leadership skills by having direct reports, and being offered a wide array of trainings.
What do you enjoy most about working at Lisk?
The work we do at Lisk has a very real impact in the world.  It's a satisfying feeling when I board a commercial aircraft, and know that there are Lisk components on it.  Aside from that, my co-workers are true friends.