Employee Spotlight: Anita Ottley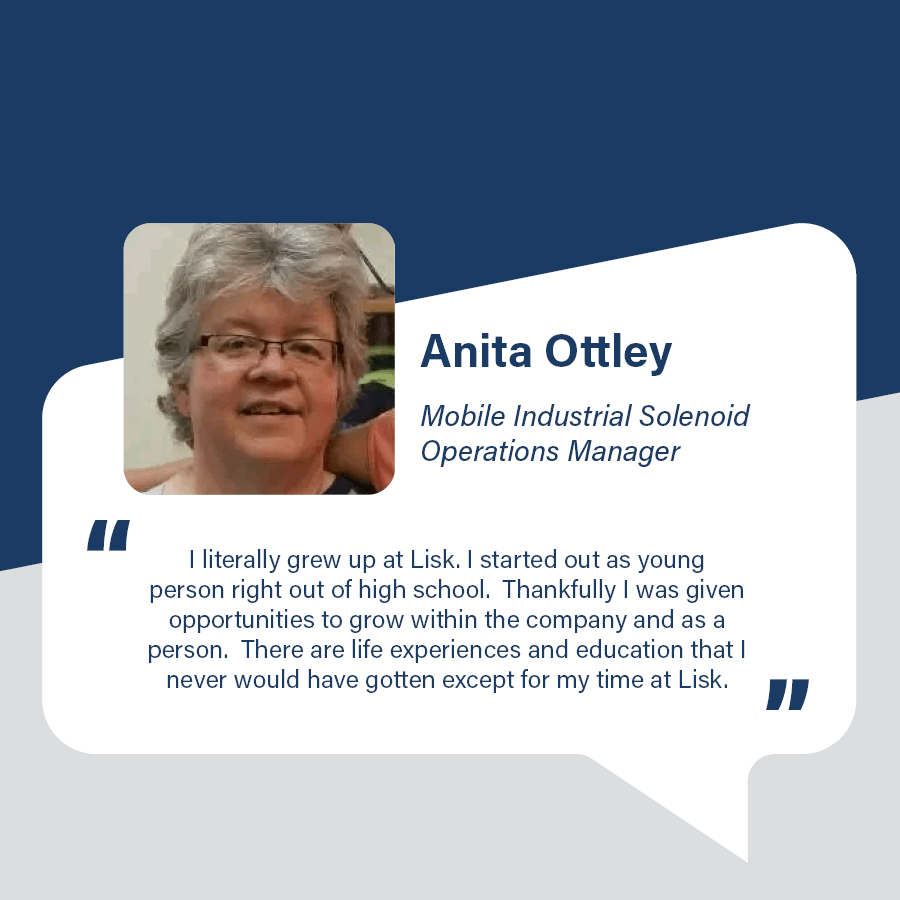 How long have you worked at Lisk and what is your current role?
I have worked at Lisk for 45 years and been in multiple roles including the offsite manager of Lisk Coils for 30 years.  My current role is the Mobile Industrial Solenoid Operations manager.
What has your experience been as a member of the Lisk team?
The one area that Lisk continues to excel at is working together for a common positive result.  All areas of the company are willing to support the success of the company.  These efforts help to deliver products on time to our customers.
Who have been some of your biggest inspirations within the company?
My greatest inspiration was Drew Morris.  Drew believed in helping people realize their potential by supporting them through change and growth.  He would hand you a project and expect results.  Sometimes those projects could appear insurmountable but it would often result in pushing people to do more than they even knew they could.  That sense of accomplishment was very gratifying and helped promote confidence in completing the next project.
What is your favorite memory at Lisk?
I have many fond memories of working here at Lisk but my favorites are likely the long term relationships I've made here.  I've made lifelong friendships that I cherish.  And I've been able to see people get married, have children and see their children come to work here.
How have you grown professionally while on the Lisk team?
I started here working at an entry level position running equipment on the floor, to becoming a supervisor after 5 years, being promoted to a manager in 10 years and being involved in many major changes within the company.  I've been around long enough to have been at Lisk during the addition of Lisk Ireland, the LVDT product line, Lisk Suzhou, Island components and now Tico.  I've traveled as far as our China facility on several occasions.  I've been fortunate to meet such an amazing variety of people and make some valuable contacts through networking.  We're all in this together.
What do you enjoy most about working at Lisk?
I literally grew up at Lisk. I started out as young person right out of high school.  Thankfully I was given opportunities to grow within the company and as a person.  There are life experiences and education that I never would have gotten except for my time at Lisk.  I will be forever grateful for my time here.