Employee Spotlight: Forrest Macaluso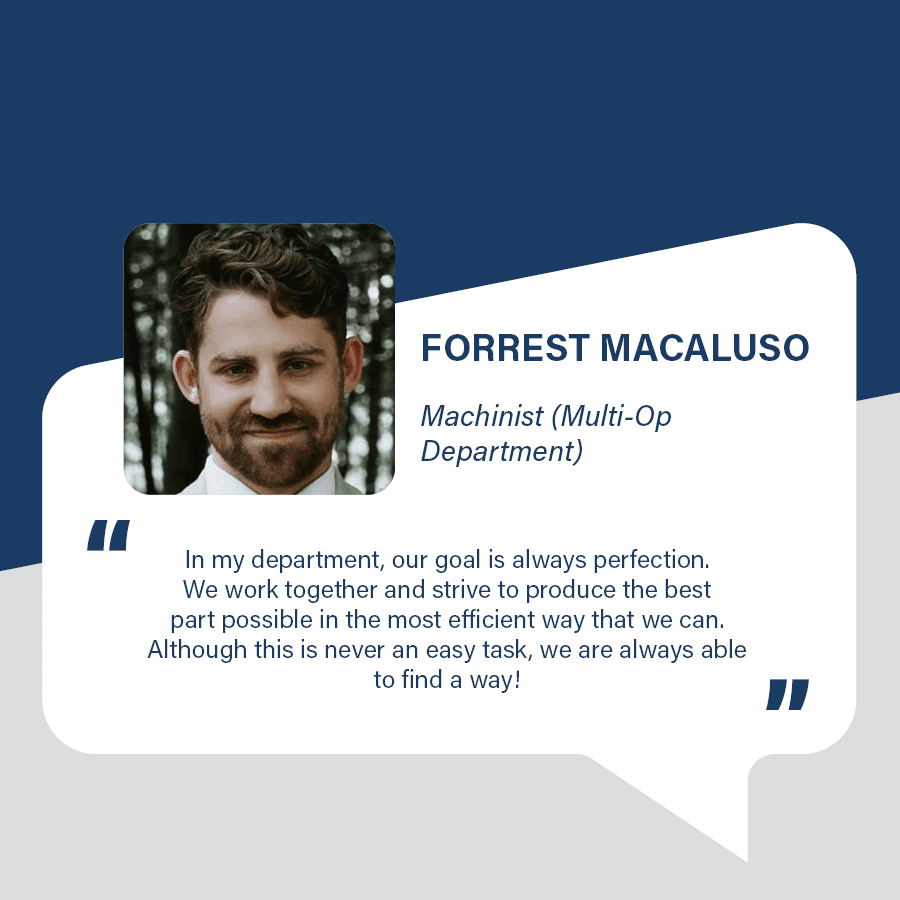 How long have you worked at Lisk and what is your current role?
I graduated from Lisk's machinist program 5 years ago, and with a brief intermission for schooling, I have worked in the Multi-Op Department ever since. I am currently running the grind cell and continuing to float around the department when I can.
What has your experience been as a member of the Lisk team?
Lisk has been a great experience for me. For the short time that I have been here, I have had plenty of different experiences in various areas at Lisk working on all types of machines. Although I have primarily been in machining, I have also worked in molding, assembly, and quality control. I have always felt at home and treated with respect.
Who have been some of your biggest inspirations within the company?
Although several names come to mind with this question, I will keep it to three.
Dave Phillips was one of the first Lisk members that I would say inspired me. I was lucky to have somebody like Dave around me when I was working through the machinist program. Once my wheels really started to spin as a student, I was happy to have him there to answer my questions. I'll always remember Dave telling us at the beginning of the program that we would have a new way of looking at the world after his class; he was right!
Carl Sands comes to mind as another person who has had a major impact on me. Carl hired me into the Multi Op Department and was my first boss during my role as a machinist. I have always appreciated Carl's guidance and willingness to take advantage of any teachable moment.
My current supervisor, Chris Dupre, has also been a mentor and a major influence on me from the beginning. I admire Chris's natural ability as a machinist and a leader, and I will always enjoy working on impossible projects together.
What is your favorite memory at Lisk?
This last year or so at Lisk has sent a lot of new tasks and learning my way. Although it came with long days of hard work, I have done my best to rise to the occasion. I don't know that I can pinpoint any specific memories that would be a favorite of mine, but I have enjoyed the challenge that has come with my current role.
How have you grown professionally while on the Lisk team
Coming to Lisk as a restaurant manager, I was pretty green in terms of advanced manufacturing. I have learned that at the end of the day, whether it's a cheeseburger or a valve component, the goal is to put out a product that meets the standards. Lisk provided me with the atmosphere to learn the ways of this industry so that I have the ability to produce high quality parts.
What do you enjoy most about working at Lisk?
In my department, our goal is always perfection. We work together and strive to produce the best part possible in the most efficient way that we can. Although this is never an easy task, we are always able to find a way!