Employee Spotlight: Kav Malli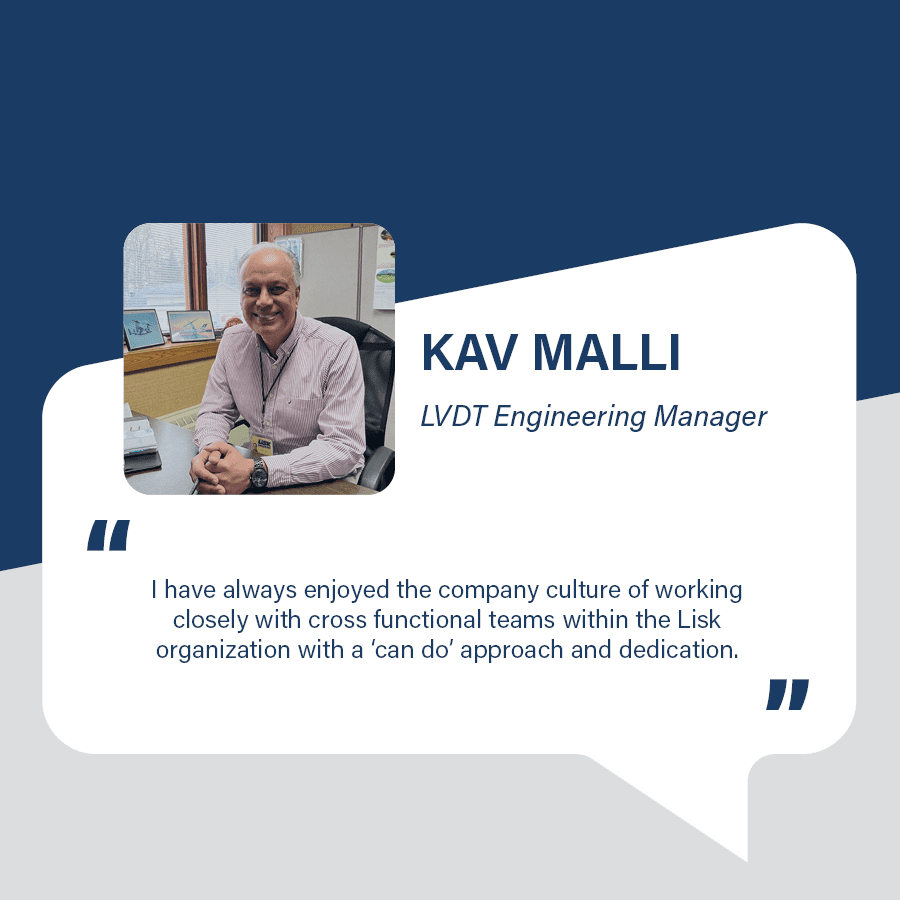 In this employee spotlight we sat down with Kav Malli, LVDT Engineering Manager, to learn more about his experience working at Lisk. See the full interview below.
How long have you worked at Lisk and what is your current role?
As of 1 Jan 2023, I've been employed at Lisk for 30 glorious years.  My current role is as LVDT Engineering Manager, leading an experienced team of 9 valuable members.
What has your experience been as a member of the Lisk team?
I joined Lisk as a Sr Engineer in the LVDT team on 1 Jan 1993 shortly after Lisk acquired a relatively young aerospace LVDT company (OMUTEC) based in California.  I considered this as a ground floor opportunity at the time since G.W. Lisk was unknown in the aerospace sensor market place.   Collectively we developed a strong LVDT engineering team through mentoring. The LVDT product line grew rapidly and G.W. Lisk became one of the top five aerospace LVDT companies globally. Presently, the Lisk LVDT engineering team is considered "second to none technically" by major aerospace customers using LVDTs.  Over the years I was given a role to focus on developing a European customer base, eventually selected for my current role.
Who have been some of your biggest inspirations within the company?
Admittedly, Drew Morris was my greatest inspiration.  His wisdom was priceless. Furthermore, my team and my colleagues at Lisk inspire me each day to continue to learn & grow.
What is your favorite memory at Lisk?
I have several fond memories over the last 30 years at Lisk.  I wish to continue to create more memories.
How have you grown professionally while on the Lisk team?
In my first few years I was given the responsibility to mentor a relatively young product engineering team and we all have grown professionally since then.  In early 2016, I was appointed my current role of an Engineering Manager to lead our experienced LVDT engineering team.  Collectively the team has 150+ years of LVDT design experience.  We continue to work together and learn and grow as a team.
What do you enjoy most about working at Lisk?
I have always enjoyed the company culture of working closely with cross functional teams within the Lisk organization with a "Can do" approach and dedication.  One of the key strengths of Lisk is being vertically integrated, which offers a rapid response to customer needs.  Furthermore, I have enjoyed the challenges of providing solutions and guidance to our growing aerospace customer base.  I look forward to participating in continued growth of the organization both organically and by acquisition to offer customers the best engineered solutions.  Retirement is not yet in the horizon.