Employee Spotlight: Melissa Smith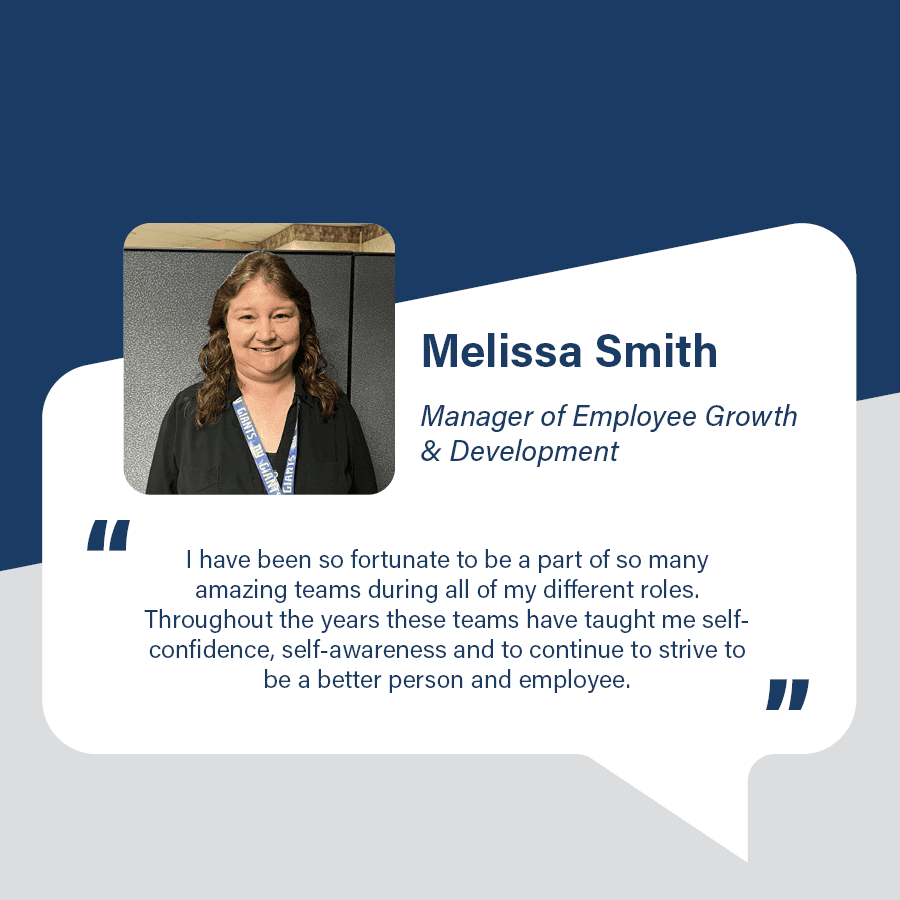 How long have you worked at Lisk and what is your current role?
18 years- Manager of Employee Growth & Development.
What has your experience been as a member of the Lisk team?
I started out working on the production floor at Lisk Coils in 2005.  I would solder AC coils and then quickly moved over to the M1 and Mil Aero windings.  In that role I learned how to set up the winding machines, solder, test and inspect all windings before leaving the building.  In 2008 I became the Line Supervisor of the M1/ Mil Aero winding department.  In 2010 I also became one of four solder trainers along Brooke Lewis, Andrea Taylor and Kim Rossman-Rohey.  I did this dual role until 2015 when I moved in to the Production Control/ Planner role for the M1 and Mil Aero lines.  In 2018 I came back to training as the Lead Solder and Assembly Trainer until 2019 when I was promoted to Training Manager. My title was changed this year to Manager of Employee Growth & Development.
Who have been some of your biggest inspirations within the company?
There are several. We have so many amazing people here at Lisk.  Anita Ottley was my Manager when I first started at Lisk.  She has always been a mentor and coach to me that helped me to start believing in myself and to become self-aware and obtain to constantly be better. I met Lee Coryell when I was selected as one of the solder trainers in 2010 and has also inspired me to believe in myself and to continue to do better.  To do this day I still reach out to Lee for guidance.  Dan Gersbach was someone I feel very fortunate to have met here at Lisk.  He was right by my side during all of the audits and he supported me throughout my entire career.  When I went into the Planner role I had the privilege of working beside Jim VanNeel and Ben Bullock.  No matter what happened, and we saw a lot, we always found a way to get through it as a team.
What is your favorite memory at Lisk?
I have several wonderful memories throughout my career here but the one that stands out the most is the Operations Leadership Graduation from April 2022. I was very fortunate to have been given an opportunity to work side by side with Dina Stuck on a brand new program to develop future potential leaders.  We both went into this project extremely excited but also extremely nervous because we had never done this type of employee development on site before.  The program was a 12 month program that focused on teaching 24 participants the soft skills of being a leader.  When the graduates spoke and received their certificates you could see and hear how the monthly workshops not only impacted their work life but also their personal lives.  To know that Dina and I were a part of that goes beyond anything I could ever say in words.
How have you grown professionally while on the Lisk team?
I have been so fortunate to be a part of so many amazing teams during all of my different roles. Throughout the years these teams have taught me self-confidence, self-awareness and to continue to strive to be a better person and employee.  From starting out down at Lisk Coils to my current role in HR/Training I find that I learn something new all the time.  My focus has shifted from myself to developing the people that around me.  There is no greater satisfaction professionally for me than to watch someone grow.  Being a part of this amazing HR team and having a true leader that inspires me and keeps me focused on the future makes my role at Lisk so rewarding.
What do you enjoy most about working at Lisk?
The first is the people. There are so many kind and caring people here.  When I walk out on the production floor, no matter what building I am in, the people always greet me with a smile and a "hi".  The other thing about Lisk that makes me so proud to work here is that we have a Senior Leadership Team that not only recognizes that training and developing our employees is important but also values it.  I have a lot of faith and hope that Lisk is going to continue to grow for many years to come!