Employee Spotlight: Thomas Knapp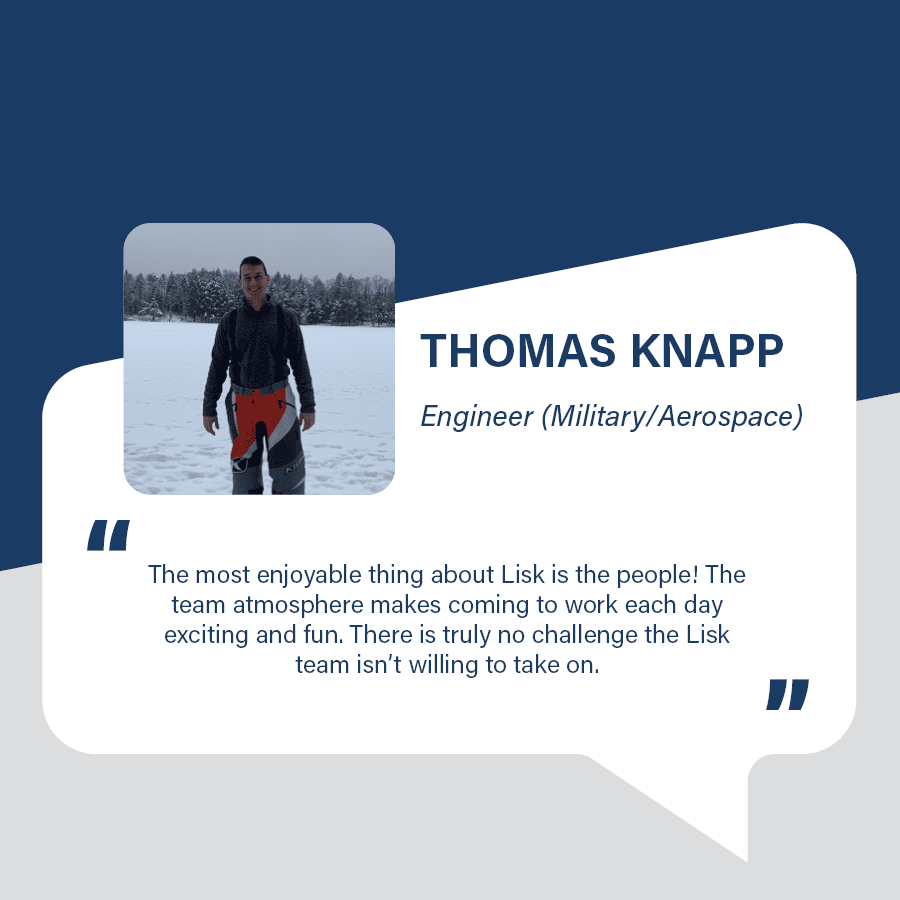 How long have you worked at Lisk and what is your current role?
I've been at Lisk full time for just over 5 years, with roughly another year's worth of time from co-ops in various departments. I am currently an engineer in the Mil/Aero department where I work mostly with M1 valves and flame arrestors.
What has your experience been as a member of the Lisk team?
I can honestly say my experience has been nothing but great. Everyone has always been friendly and willing to help with any problem. The teamwork between everyone at Lisk is incredible to say the least.
Who have been some of your biggest inspirations within the company?
This is tough question to answer simply because there are so many people that come to mind. With that said, Scott Cummings has always been one of my biggest inspirations due to his dedication to Lisk and years of service. Another one of my biggest inspirations would be Mike Levis who is probably the most hardworking person I know. The Mil/Aero Engineering team would certainly be lost without him around!
What is your favorite memory at Lisk?
Honestly, I have so many great memories it's next to impossible to pick just one. Most of my favorite memories though are with the Mil/Aero Engineering team. We all get along extremely well and I really consider them all friends rather than co-workers. We are always willing to help each other out while making sure we have fun and laugh along the way.
How have you grown professionally while on the Lisk team?
While I was still in college I spent time at Lisk on various co-ops which helped me grow professionally right away. As a college student without any manufacturing experience, these co-ops helped me grow exponentially, and I'm not sure I would be where I am today without them. From my viewpoint, Lisk does a great job helping people grow professionally. The experiences along with classes and trainings that are offered to employees really just shows how much Lisk cares about developing each employee.
What do you enjoy most about working at Lisk?
The most enjoyable thing about Lisk is the people! The team atmosphere makes coming to work each day exciting and fun. There is truly no challenge the Lisk team isn't willing to take on.