G.W. LISK Named Outstanding Supplier for OmegA Rocket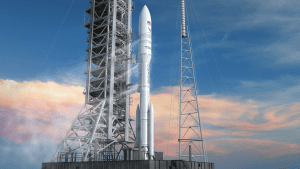 Clifton Springs, New York, June 4, 2020 – Northrop Grumman selected G.W. Lisk Company as an Outstanding Supplier supporting the OmegA rocket, which will launch national security missions for the U.S. Space Force. OmegA is on track for its first launch in spring of 2021.
"G.W. Lisk Company is honored to receive an Outstanding Supplier award from our customer, Northrop Grumman.  LISK has a long history of supplying critical components to help enable our country's defense systems.  We are always prepared to answer the call." said Ed Maier, President & CEO of LISK.
G.W. Lisk is a world leader in the design and manufacture of Linear Variable Differential Transformers, commonly referred to as LVDT's.  These products are used in many mission critical applications where extremely tight tolerances on linear position control are required. For the OmegA program LISK's LVDT's are used for thrust vectoring control on Northrop Grumman's GEM 63XLT booster rocket and the RL10 liquid fuel upper stage rocket.
In addition to the above application G.W. Lisk is also a leader in the engineering and manufacture of motion and flow control products for defense, aerospace and heavy duty engine air management.
About G.W. Lisk
G.W. Lisk Company is a global leader in the design and manufacture of engineered solenoids, solenoid valves, sensors, flame arrestors and intelligent integrated sub-systems. We provide engineered solutions and capabilities to hundreds of customers in diverse markets throughout the world, including aerospace, defense, on/off highway and oil & gas. Celebrating 110 years of unparalleled quality and commitment to our customers.