Technical Accomplishment: CEO Ed Maier Profiled in Rochester Business Journal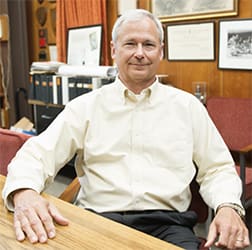 Ed Maier, replacing patriarch, keeps family business thriving.
When Edward Maier interviewed at G.W. Lisk Co. Inc. four years ago, he asked his interviewers what made the company successful.
They may have answered by pointing to the fact that Maier's predecessor was known for his generosity and giving back to the community, or that staffers take pride in their work because the company has been employee-owned since 1994, or they may have noted that despite employing 700 people in the Ontario County town of Clifton Springs, G.W. Lisk still feels like the small, family-owned business that was founded there in 1910.
In Maier's opinion, it's the people.
"With 700 people we all have to kind of know what we're doing to excel at it," Maier says of Lisk's success. "We have a great team here."
What began as a one-man band, making hand pump sprayers and tin baking pans, has grown to a 900-person multinational organization whose markets include aerospace, heavy equipment, oil and gas and industrial hydraulics. Lisk has operations in China and Ireland, where an additional 200 people are employed.
The privately held company does not divulge revenues, but Maier said compounded growth is between 5 and 10 percent.
"There have been tough periods, like in '08 and '09 when everybody experienced that, and '16 was a rough year for us, but we're starting to come out of that," Maier says. "You have this kind of thing, but the trend line growth is very good. Our international operations are growing very nicely."
A century of progress
Lisk was founded more than a century ago by George Washington Lisk, who had previously worked at his uncle's hardware store, dabbling in producing custom tin items. In 1888, he and a group of businessmen founded Lisk Manufacturing Co., which for 10 years made and patented a number of metal products.
In 1898, Lisk resigned from the company and took a job with Judd & Leland Co., where he continued his work with metal products. Twelve years later, Lisk purchased a house and barn on South Street in Clifton Springs, where he became the sole owner, worker, salesman and office person at G.W. Lisk.
The company for some time focused on hand pump sprayers and tin baking pans, and by 1925 Lisk had grown to 25 employees. When Lisk became ill that year, his son-in-law, Isaac Andrew Morris Sr., joined him in the family business. Four years later Lisk died, leaving the property and business to his daughter and son-in-law and his grandson, Isaac Andrew Morris Jr., known as Drew.
It was 1929 and the Great Depression had wreaked havoc on the small manufacturer; the father and son duo were the only employees still making sprayers. In 1934 sales were less than $1,000, but Lisk never closed its doors.
Drew Morris eventually went to Syracuse University to study engineering, where he and one of his professors developed a flame arrestor to be used in motors for military planes. G.W. Lisk began to manufacture the product, which kept the company afloat. In 1946, Drew Morris' father died so he and his wife, Marjorie, returned to Clifton Springs to run the company.
A few years later, Lisk began making solenoids—magnetically charged wire coils that act as switches or controls for mechanical objects—which would become one of the company's core products.
The components are on nearly every aircraft in flight today. In fact, pilot Chesley Sullenberger in 2009 deployed the device when he successfully crash-landed U.S. Airways Flight 1549 in the Hudson River shortly after takeoff from LaGuardia Airport. All 155 passengers survived the landing.
The company and its staffers were commended by the state Legislature for their skill and dedication in designing the product that was instrumental in providing hydraulic control in that crash landing.
Today, Lisk has five product lines and serves roughly the same number of markets. In addition to customized solenoids for multiple industries, the manufacturer produces custom valves that can be driven by a variety of actuators.
Lisk's linear variable differential transformer sensors are found in commercial and military aircraft, heavy-duty engines, refineries, industrial applications and mining equipment. In addition to standard designs, Lisk custom-designs its flame arrestors for critical applications including diesel engines, gas analyzers, storage tank vents and aircraft fuel systems. Lisk also offers a modular hazardous coil platform for screw-in cartridge valves.
It's the customization of those product lines that sets Lisk apart from its competitors, says board Chairman Robert Woodhouse.
"Our customers say, 'we have this application where we think we need one of your products,' and it's a collaboration between their engineering department and ours. I think our customers appreciate that and value that," says the former CFO and 40-year veteran of the company. "We don't make products just to be on shelves; everything is customized to our customers' needs. I think that helps distinguish Lisk."
Big shoes to fill
Drew Morris, who died in 2013, was known for his skill in engineering, his spirit of community and his tendency to work weekends and holidays to ensure customers received their orders. He also was known for his ability to create an atmosphere of collaboration and teamwork among his employees.
Five years after his death, Morris' office remains much as it did when he was working, and Lisk is working on a museum of sorts to honor him and his wife, who at 95 is majority owner and remains on the company's board of directors.
"Drew was a wonderful mentor and he had this great work ethic to him," Woodhouse says. "He didn't ask his employees to do something that he wouldn't do himself."
So when the Lisk board of directors sought to find Morris' replacement, it looked for someone with similar attributes: an individual who would not only continue what Morris, his father and grandfather had started and kept alive, but some-one who also would inject the company with new ideas.
Enter Maier, who with four decades of engineering experience under his belt had spent the last 10 years with Harris Corp.'s Communications Systems division in Rochester.
"I came down here and fell in love with the place," Maier says. "What's not to like about this interesting business?"
One of the first things he did after being named president and CEO in 2014 was help develop a strategic plan that focuses on sales, orders, international operations, customer service, employee development and safety.
"We want everybody in the company to understand how their job and how they do their job affects the overall business," Maier says.
Teamwork continues to play a crucial role in Lisk's success, Maier says, and given the products Lisk works with and the industries it serves, each of the millions of pieces it manufactures annually must be near perfect. That takes a collaboration and teamwork other companies may not be familiar with.
"You succeed as a team. If we fail it's because we failed apart, we didn't perform as a team," Maier says.
Like his predecessor, Maier's leadership style is hands on, colleagues say.
"Being an engineer himself, he's not afraid to roll his sleeves up and get into a customer issue," says company CFO Mike Maurer, who knew Maier when he worked at Harris. "He's in early and leaves late."
Maier is both fair and employee focused, Maurer adds. Quarterly staff meetings go hand-in-hand with company picnics and employee cookouts at which senior staff does the cooking and serving. And Maier is approachable.
"I think Ed's extremely engaged with the employees. Ed is a very good communicator," Woodhouse says. "We have an email account set up called 'Ask Ed,' so people can send him an email if they don't feel comfortable raising their hand in a meeting or if they don't feel comfortable approaching him personally. And their name is attached to it so he has a way to return the communication. That was a good idea on his part.
"Ed has some of the qualities that Drew had. He leads by example," Woodhouse adds.
Maier acknowledges that staffers had to get used to a different type of leader when he arrived on the scene.
"Before I came here the company was run by one person. It was Drew. It was his business. He owned it," Maier says. "So we've had to undergo this transition of an owner calling all the shots to this management team and how the management team relates to the rest of the organization."
Management has made an effort to maintain the culture that Morris built at the company.
"We don't lose the old Lisk because this family-oriented business is really a great culture," Maier says.
For his part, Maier says his management style is participative.
"I like to use the collective wisdom of a team," he explains. "Let's not argue with each other; let's use the energy to come up with the best solution. That's a team approach. I like to be more coach-like than anything."
Morris and Maier differ in one key area, Woodhouse notes.
"Drew was the typical engineer entrepreneur, self-made kind of guy, so he kept everything very close to the vest and he shared only what was necessary to share with whomever," Woodhouse recalls. "And I'd say Ed is the other end of the spectrum."
Overcoming challenges
Lisk's work is enormously technical, Maurer says, and fulfilling customer needs is of the utmost importance.
"They sell to world-class companies. They play with the big boys," he explains. "Their No. 1 focus is on the customer and customer satisfaction. They will sacrifice short-term gains for what's the right thing to do for our customers. And that's very refreshing."
Despite that, Lisk has had its bumps in the road. Within the industry, the big challenge right now is capacity, Maier says. But more importantly, with the low unemployment the country and the region have experienced recently, Lisk has had a hard time filling open positions.
"We have 50 openings," Maier says. "There's that war for talent. It could be a constraint in our growth as we look at our strategic plan."
To that end, Lisk six years ago partnered with Finger Lakes Community College to address the worker shortage through a machinist training program held at Lisk. The program runs from September to March each year and typically has a cohort of up to a dozen individuals.
The certificate program, paid for by Lisk, allows students to do a half day of training and a half day of work, with the provision that students will stay on with Lisk at the end of their training.
"We don't have the capacity we'd like to have right now. We make do and maybe it inhibits our ability to grow the business because we have to slow roll some new programs or decline going after some new programs," Maier says of the capacity and worker shortage issue. "So the ability not to recruit would limit our ability to chase and realize new products."
Despite those challenges, not much about the job keeps Maier up at night.
"I understand what comes with the position, so I would expect with this position we're going to get some major challenges," he says. "But those are the exciting things too. The things that would keep me up at night are worth solving."
Maier doesn't try to hide a slight competitive streak.
"The best part (of the job) is having our team succeed and having everybody participate in that success," he says. "Nothing beats that."
At home
Maier, who settled in the Rochester area in 1986, lives with his wife, Debra, in Pittsford. The couple has three adult children: Sara, Mark and Rebecca.
A favorite memory includes a family cruise when his parents were still alive, but more recently he enjoyed having his four grandchildren around, whom he calls hilarious. He says raising three kids was one of his biggest lifetime accomplishments.
Maier calls himself a spry 63 and in his free time he enjoys golf and reading, while on the job he enjoys the travel he has to do as head of Lisk.
Maier is a trustee of Rochester Museum and Science Center and a Rotarian in the Clifton Springs Rotary Club. He also sits on the industrial advisory board for Rochester Institute of Technology's engineering department, as well as the industrial advisory board for University of Michigan's electrical and engineering department.
His parents were role models to him, Maier says, and when he thinks about what he's learned along the way, he says it's to be persistent, seek constructive change and be your best every day.
"That's the most important thing," he says. "If everyone was their best every day, especially when you're hundreds of employees, it makes a huge difference."
By Velvet Spicer, vspicer@bridgetowermedia.com  / 585-653-4021 / @Velvet_Spicer